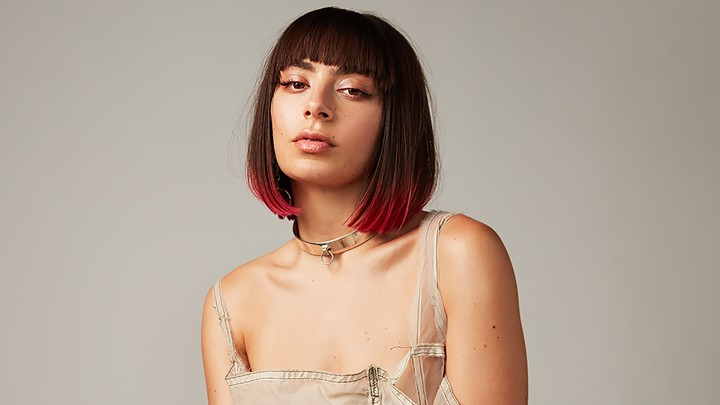 With her first studio LP in five years, the pop experimental maestro conjures up a reflection of self-examination and invites a fluid global dream team of some of music's hottest and up-and-coming artists that reveals an artist ready to commit herself to adventurous production and revealing writing.
After a lengthy five-year battle with her major label, a string of singles, two mixtapes, various concert tours and festival appearances, the Queen of Experimental Pop music finally returns with the release of her eponymous self-titled third studio album, Charli. Getting her start in the early 2010s penning hits for Icona Pop, Iggy Azalea, Selena Gomez, etc., it was a straightforward pop song delivery to other artists. On her own albums, she tended to explore more experimental sounds and themes like on the gothic True Romance, punk rock Sucker or the avant-garde Pop 2 where she eventually subverted the mainstream pop conventions, creating and projecting a new image of herself – one in which she contradicts her love of pop music yet rebels against the pop machine. Thus was born one of 2019 most highly anticipated and best albums.
At its heart, Charli is an excellent pop album full of fizzling hooks and club-ready banger beat drops; she has fully pushed pop to its limits with a cacophonous production and unconventional song-writing with club-ready choruses and beats. Like many self-titled album, it's a reflection of the artist: in this case, Charli wants to veer down experimental, transgressive and queer pathways but at the same time explore what it would mean to fully enter the mainstream pop soundscape. She invites over 14 of pop's most electrifying and up-and-coming artists – Lizzo, Troye Sivan, Christine and the Queens – as well as indie legends – Sky Ferreira, Haim – and rising stars – Clairo, Yaeji – and the hip hop underground scene – Big Freedia, Cupcakke and Tommy Cash – among many other artists. What works with having so many collaborations is that she lets each individual artist keep their distinctive style intact, beautifully mending unique styles and genres that somehow work to create a pop future soundscape that Charli likes to explore.
Charli's sound is an extension of the corrosive electronics first explored on her 2017 mixtape Number 1 Angel that she then further explored on her second mixtape of that year, Pop 2 with producer A.G. Cook at the helm of both and her most recent album. He and like many of his PC Music cohorts like to embrace the synthetic and shiny sounds: glossy, arena-sized '80s rock drums, power synths, J-pop arrangements, Swedish Eurodance that is repurposed and exaggerated. On "Shake It," Charli's voice is manipulated to sound like bubbling water, before the track is infiltrated by the four collaborators who each take a chance to shine on the track with their signature styles. On "Click," the track ends with a montage of jagged and distorted SOPHIE-like sounds. Compared to the bouncy electro-pop friendly "1999" (one of two Troye Sivan collaborations on the album) or the trop-pop production on the Haim-assisted track "Warm," the aforementioned moments provide a thrilling adrenaline rush to the most important of Charli XCX fans.
Charli's writing mirrors the album's vivid production. The sensory details she describes on "Next Level Charli" establishes a scene in seconds with lyrics "I go speeding on the highway/Flame burning/Tire screech." Charli has credited Max Martin in the past with teaching her the technique that is commonly used by Swedish songwriters – of using words' natural melody to create catchiness, instead of intentionally rhyming (a technique used by frequent Scandi-pop collaborators like Tove Lo, Alma, MO and Icona Pop). Using different methods in her lyrical writing style along with the most effective ideas from different schools of production, she's able to construct her own strain of pop – a futuristic, mutated, symbol of freedom and reflection. In the album's most potent song, "Gone" she blends vulnerability with a futuristic outre sound. Featuring Heloise Letissier of Christine and the Queens, they both capture a cathartic breaking point – a breakdown filled with percussions, dramatic synth stabs and stuttering vocal chops. The song is a hypothesis of sorts to why her music has become so beloved by the LGBTQ+ community: her ability to evocate a profound sense of unbelonging.
At the end of a listen, it is clear that Charli's main goal is self-examination – a whole new step for Charli XCX, who's better known for her usual up-tempo hedonistic club bangers than her emotional deep cuts. Throughout the album, she explores and pinpoints the main sources of her anxieties, investigates her relationship with various substances, her romantic partners and herself. The album effectively uncovers a singer-songwriter who is unafraid to display the cracks in her facade, crafting a striking portrait of an artist who is coming into her own – a momentous and grandeur moment especially among an already crowded mainstream pop soundscape. When one of the best tracks of the year, "Gone," explodes, it sounds like a group artists shattering the box that has confined them.
JAKKAWI: A
Essential Track(s): "Gone" (featuring Christine and the Queens), "Blame It on Your Love" (featuring Lizzo), "Shake It" (featuring Big Freedia, Cupcakke, Brooke Candy, Pabllo Vittar), "February 2017" (featuring Clairo, Yaeji)
Released: September 13, 2019.
Genre(s): Avant-pop, electropop.
Label: Asylum, Atlantic.
Featured Artist(s): Christine and the Queens, Sky Ferreira, Troye Sivan, Kim Petras, Tommy Cash, Haim, Lizzo, Big Freedia, Cupcakke, Brooke Candy, Pabllo Vittar, Clairo, Yaeji.
Tour: "Charli Live World Tour" [2019-2020] (as of publishing)
Vinyl Edition: Yes - through various outlets (as of publishing).